The Lodge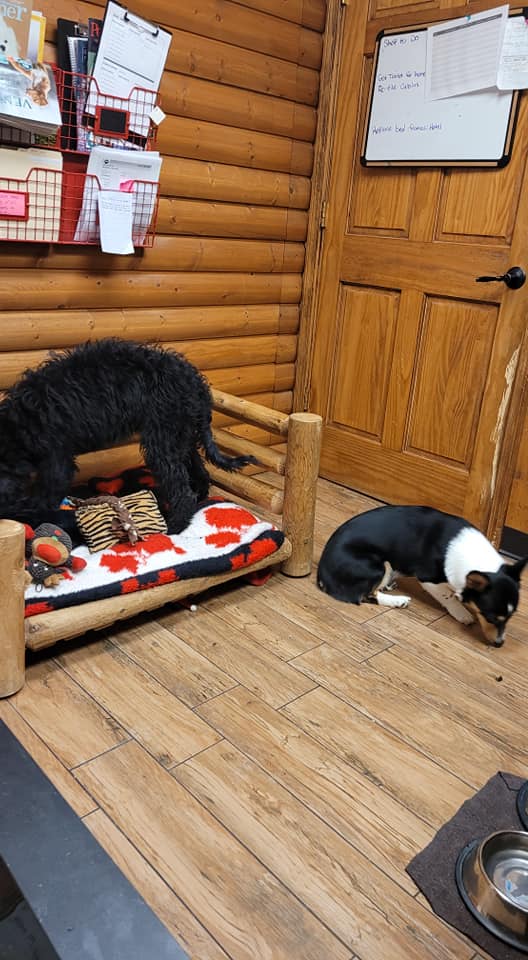 Lodge Hours
Monday 7:00 AM - 7:00 PM
Tuesday 7:00 AM - 7:00 PM
Wednesday 7:00 AM - 7:00 PM
Thursday 7:00 AM - 7:00 PM
Friday 7:00 AM - 7:00 PM
Saturday 7:00 AM - 7:00 PM
Sunday 10:00 AM - 7:00 PM
Even though we have regular daytime hours, don't worry; someone is with your pet 24/7.
Your pet will never be left alone! We provide 24 hour care when we have lodgers.
Our lodge is fully heated in winter and air conditioned in the summer. Your pet will have clean, fresh air to breath from our facility's UV air filtration system.
All of our cabins come completely furnished for your pet.
We provide feeding stands and bowls for your pet.
Bringing your dog's food with them for their stay is required. Make sure to bring as much is needed, for however many days. Keeping a pet on a regular feeding schedule with the same food they are used to eating prevents tummy upsets and can ensure a good stay.
If your dog has any medications, those are required along with their food. We do dispense medication on request, but that may incur an additional charge based on medication needed. We are NOT able to administer medications via needle/injections.
Feel free to being any of your dog's items (Beds, Toys, or even a T-Shirt) so that they have your scent with them during their stay.
During your dog's stay, daycare will be available. (All dogs that attend daycare must be temperament tested by one of our staff members)
Social dogs can also join the slumber party nights that are available.
Ask about our spa day for your pet on the day you are going to pick them up.
Our boarding line will never be answered during daytime hours, as we will not leave dogs unattended. Leave a message, and they will get returned periodically throughout the day during our down hours.
---
Cabin Rates
Small Cabin (4x6): $45/day $50/peak
Medium Cabin (6x8): $55/day $60/peak
Jr Presidential Cabin (8x9): $60/day $65/peak
Presidential Cabin (8x12): $65/day $70/peak
Drop off after 5PM for boarding will be charged for a half day.
Picking up dogs before 2PM for boarding will be charged for a half day.
Peak rate dates
Spring Break
Memorial Day
4th of July
Labor Day
Columbus Day
Thanksgiving
Winter break
Call for specific details of peak rates.
Cancellation policy
For non-peak reservations, cancellations made more than 48 hours of the first day of the reserved stay will NOT incur a charge. For peak reservations, cancellations made 2 weeks from the first day of stay will NOT incur a charge.