Southpaw Doggie Daycare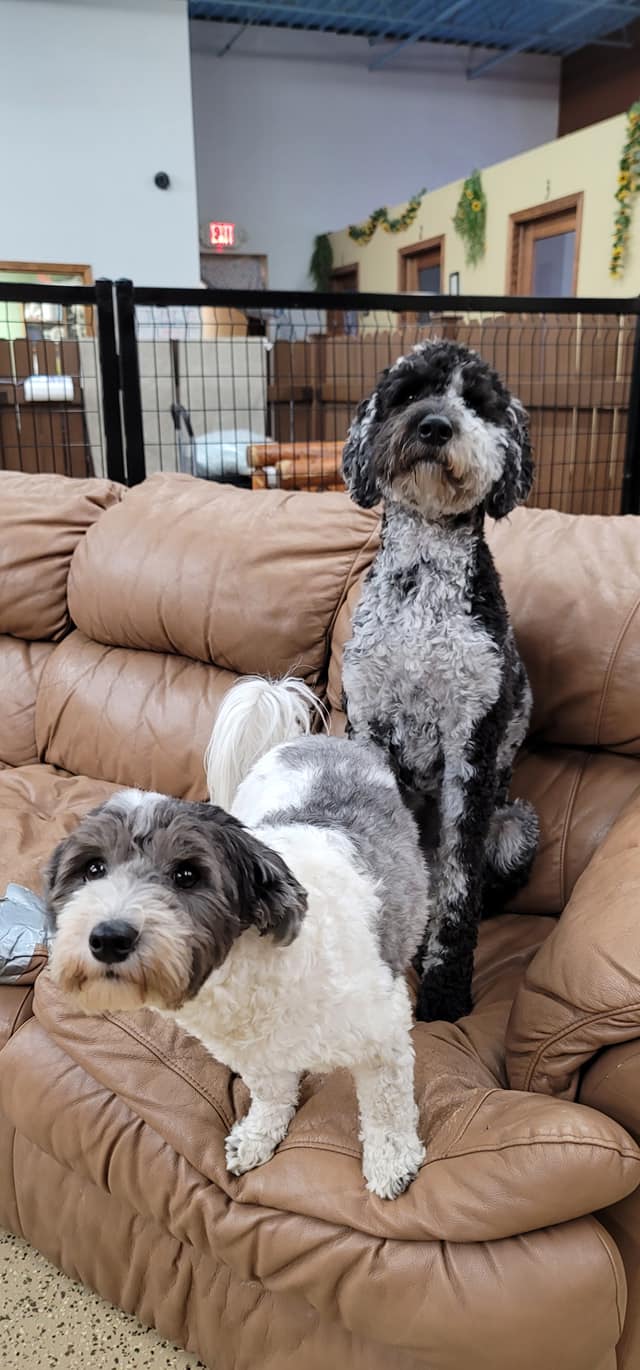 Monday, Tuesday, Thursday, Friday, and Saturday
7 AM - 7 PM
Do you ever come home from a long day of work and your beloved dog is so excited jumping and running around wanting all of your attention?
At the same time do you wonder if your dog has been lonely, bored, and slept it's whole day away?
This is when our Doggie Daycare comes into play! Here at South Paw's Daycare it is a natural and healthy outlet for your dog's energy and playful spirit. A place where your best friend can play ball, wade in a pool (weather permitting) , catch snowballs, snugle, and socialize with other friends that have four legs while you're at work, getting things done. Or this can also be if your four legged friend just needs to get out and be with it's own kind for awhile!
It helps your dogs relieve boredom and/or the stress of being home alone all day. Don't forget, a bored dog is a destructive dog, and a tired dog is a happy dog! It provides mental and physical exercise so your pet will go home happy and tired from a full day of playing.
Frequently asked questions about Doggie Daycare:
Is Doggie Daycare a good idea for my dog?
Does my dog spend more than 6-8 hours home alone per day?
Does my dog act out (chew, bark, have inside accidents) while I'm away?
Does my dog know how to interact with other dogs?0
Does my dog need more exercise so he/she will be more calm and sleep better when home?
Does my dog need to make friends with four legs even though they love me dearly?
If you answered yes to any of the above quetions, then Doggie Daycare is for your best friend!
Temperment Testing
All dogs must be temperament tested to join our Doggie Daycare. This consists of setting up an appointment for a temperament test. This test usually lasts 2 hours. Our hours for temperament testing are:
Monday, Tuesday, Thursday, Friday, and Saturday
8 AM - 12 AM & 3 PM - 6 PM
During this time we will introduce your dog to other dogs in our play groups to see how they will get along. Dogs will be introducted slowly, with 1 or 2 dogs at a time. During this time, we will be watching your dog and the other dogs' interaction together with toys, treats, and how they play with each other.
During this time, if we notice any aggression we will notify you. At that time, we will ask that you come pick up your dog.
We will let you know how your dog did when you come to pick him/her up. If all went well, you may schedule your next date or purchase your dogs punch card. The punch card comes in 5, 10, and 20 day increments. Keep in mind, punch cards are NOT refundable.
You will need to bring in proof of shots before you start Doggie Daycare. Required shots are: Rabies, DHPP, and Bordetella.
YES - ALL dogs must be spayed/neutered. Dogs being their interactions with one another by scent in addition to other social cues from the play group and the environment. Intact male dogs and unspayed female dogs add additional mating and dominance dynamics to the mix. These dynamics may also result in aggression, competition, and other behaviors that can cause serious harm to the other dogs at our facility.
Yes, you must have an appointment for Doggie Daycare. This is to ensure we will have a proper dog to human ratio and to ensure all dogs in the daycare will be safe and have fun.
A Dog's Day At Southpaw Daycare
We play really hard,
We get snakcs too.
They even take us out,
To go number one and two.
Then we get rest time,
From twelce until two.

When rest time is over
Look out, here we go!
We play and play,
Until you say "Time to go"

We are excited to see you,
We love you no doubt.
But we are tired from playing,
and all tuckered out.